In order for the society to know about our project, we used many different ways to show our progress and our achievements.
WeChat:
igemWorldShaperWH
We created our own WeChat account igemWorldShaperWH (figure 1). WeChat is the most popular social software in China, like Twitter in USA. We used it to make sure we maximize our impact to society. Our daily tweets come from our daily experiments and our human practices.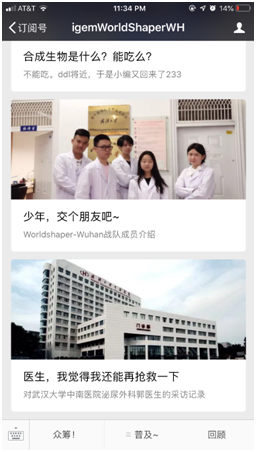 (Figure 1: Two passages about it on our WeChat)
Over summer break, we published 39 posts. These posts contain team introduction, program introduction, online surveys questions, interviews with professors and so on, which has been welcomed by many people.
(Figure 2: Some posts on WeChat)
Presentation At Local Community
Our team captain Zhengguo Hao and member Yi Kuang, Yishi Qiu delivered a speech in Hankou. Introducing the background of our experiment project, the target and the function to society. They also introduce the crowd about IGEM and gave the audience some life tips base on our researches. After the remarkable speech from our three members, the audiences also asked questions about our project and our members successfully answer those questions. Also, they gave us plenty of suggestions. After the conversation with our audience, we received a plant amount of new ideas, which provided convenience for our further program.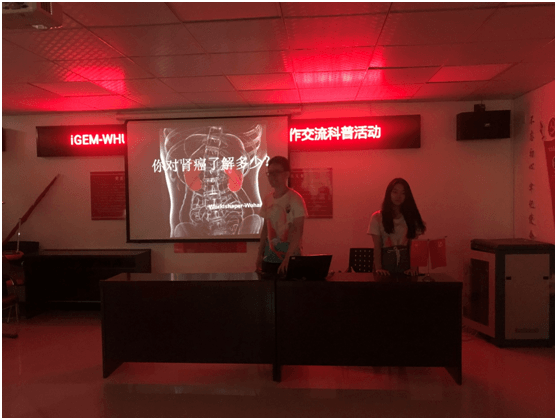 Propaganda Activity:
Hangzhou Low Carbon and Technology Museum
The team in Hangzhou hosted an activity in Hangzhou Low Carbon and Technology Museum. They invited most of the high school IGEM team to join this activity. Our team members Yishi Qiu and Yi Kuang, travel thousands of miles to Hangzhou to take part in the event with their achievements and confidence. We created a game to show the amazing facts of biology which use candies and toothpicks, put them together to build an RNA model. The game is based on what our researches about and it seems like all the children like our "biology" game. The success of this activity is inseparable from our patient guidance and efforts. There were also many tourists reading and taking the photo of our poster. Even there was a tourist who is doing similar research as ours gave us some suggestions and cheer us up.